The NHS Faster Diagnosis Standard (FDS) requires patients to be diagnosed or have cancer ruled out within 28 days of being referred urgently by their GP for suspected cancer. For patients who are diagnosed with cancer, it means their treatment can begin as soon as possible. For those who are not, they can have their minds put at rest more quickly.
We are working with our partners in the local health and care system to increase the number of patients diagnosed within 28 days and have funded local initiatives to enable Trusts to work towards the FDS. This includes navigators and expert nurses in tumour sites that have been challenged in providing a faster diagnosis for patients.
Best practice timed pathways support the on-going improvement effort to shorten diagnosis pathways, reduce variation, improve patient experience of care, and meet the Faster Diagnosis Standard.
The following guidance has been published by NHS England and sets out how diagnosis within 28-days can be achieved for the suspected cancer pathway. Find them on FutureNHS Best Practice Timed Diagnostic Pathways:
Prostate Cancer UK has also published its Best Practice Pathway for Prostate Cancer. This sets out how to achieve an early diagnosis in men at higher than average risk of the disease. It also supports use of the most up-to-date, cutting-edge research-led innovations - so that healthcare professionals are equipped and supported to provide the very latest evidence-based best practice to their patients.
To support achieving FDS, all alliances have been tasked with implementing Rapid Diagnostic Services (RDS). These include seven key principles: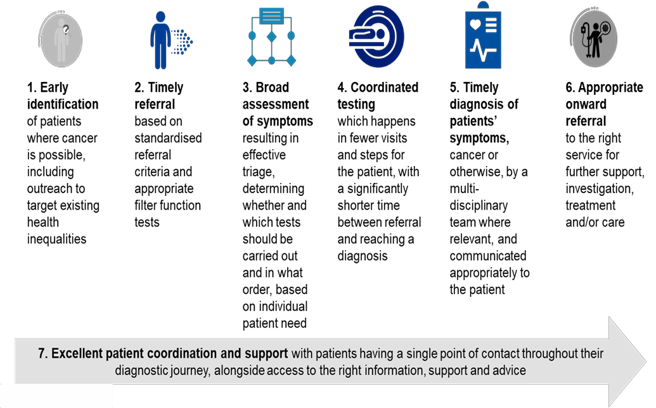 Early identification of patients where cancer is possible, including outreach to target existing health inequalities
Timely referral based on standardised referral criteria and appropriate filter function tests
Broad assessment of symptoms resulting in effective triage, determining whether and which tests should be carried out and in what order based on individual patient need
Coordinated testing which happens in fewer visits and steps for the patient, with a significantly shorter time between referral and reaching a diagnosis
Timely diagnosis of patients' symptoms, cancer or otherwise, by a multi-disciplinary team where relevant, and communicated appropriately to the patient
Appropriate onward referral to the right service for further support, investigation, treatment and/or care
Excellent patient coordination and support with patients having a single point of contact throughout their diagnostic journey, alongside access to the right information, support and advice
By achieving these key principles providers will improve the patient experience and also offer shorter pathways for patients, thus supporting improved performance against waiting time criteria.
We are currently working with our trust partners on several projects to deliver Rapid Diagnostic Services.
Ashford and St Peter's Hospital (ASPH) has restarted its new clinical service for people with serious non-specific symptoms
Surrey and Sussex Healthcare NHS Trust has commenced a multiple symptom pathway for abdomino-pelvic patients, with the emphasis being on a single entry point for patients with abdomino pelvic issues. This pathway also, innovatively, looks at the frailty of patients.
Frimley Health NHS Foundation Trust has two non-site specific pathways - one at each of its Frimley Park and Wexham Park sites – which accept all suspected cancer referrals for patients with vague symptoms.