The Faecal Immunochemical Test (FIT) is an important test in helping to improve the diagnosis of colorectal cancer
The test looks for tiny amounts of blood in a stool sample collected at home by the patient using a special FIT collection kit. This kit can be given out by the GP or medical practice administration staff following a consultation.
Traces of blood in the stool can be caused by other medical conditions and doesn't necessarily mean the patient has cancer. But if it is cancer, finding it at an early stage means there are more treatment options available.
It is important that patients are given information by the GP or medical practice administration team to help them use the FIT kit accurately at home. This information should include how to label the collection device and how to collect a stool sample.
We have created this FIT toolkit of resources to support primary care teams when giving out the FIT kits:
The Association of Coloproctology of Great Britain & Ireland (ACPGBI) and the British Society of Gastroenterology (BSG) has published recommendations on the use of FIT in patients with signs or symptoms of suspected colorectal cancer. You can read the full guidelines here: Faecal Immunochemical Testing (FIT) in patients with signs or symptoms of suspected colorectal cancer (CRC).
The recommendations were presented in August 2022 by Dr Kevin Monahan, consultant gastroenterologist as St Mark's specialist bowel hospital and chair of the colorectal section of the BSG. You can find the full presentation here: FIT Guidance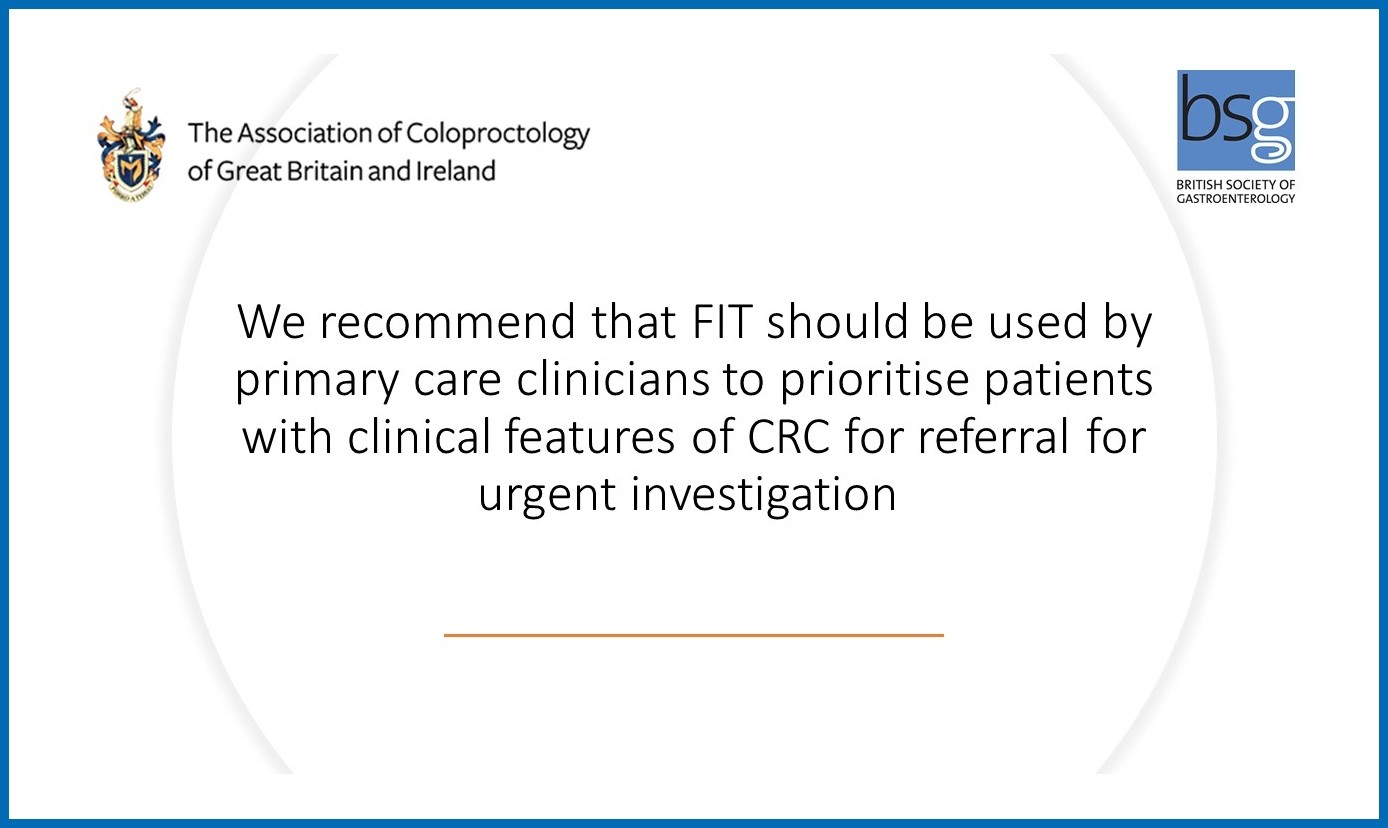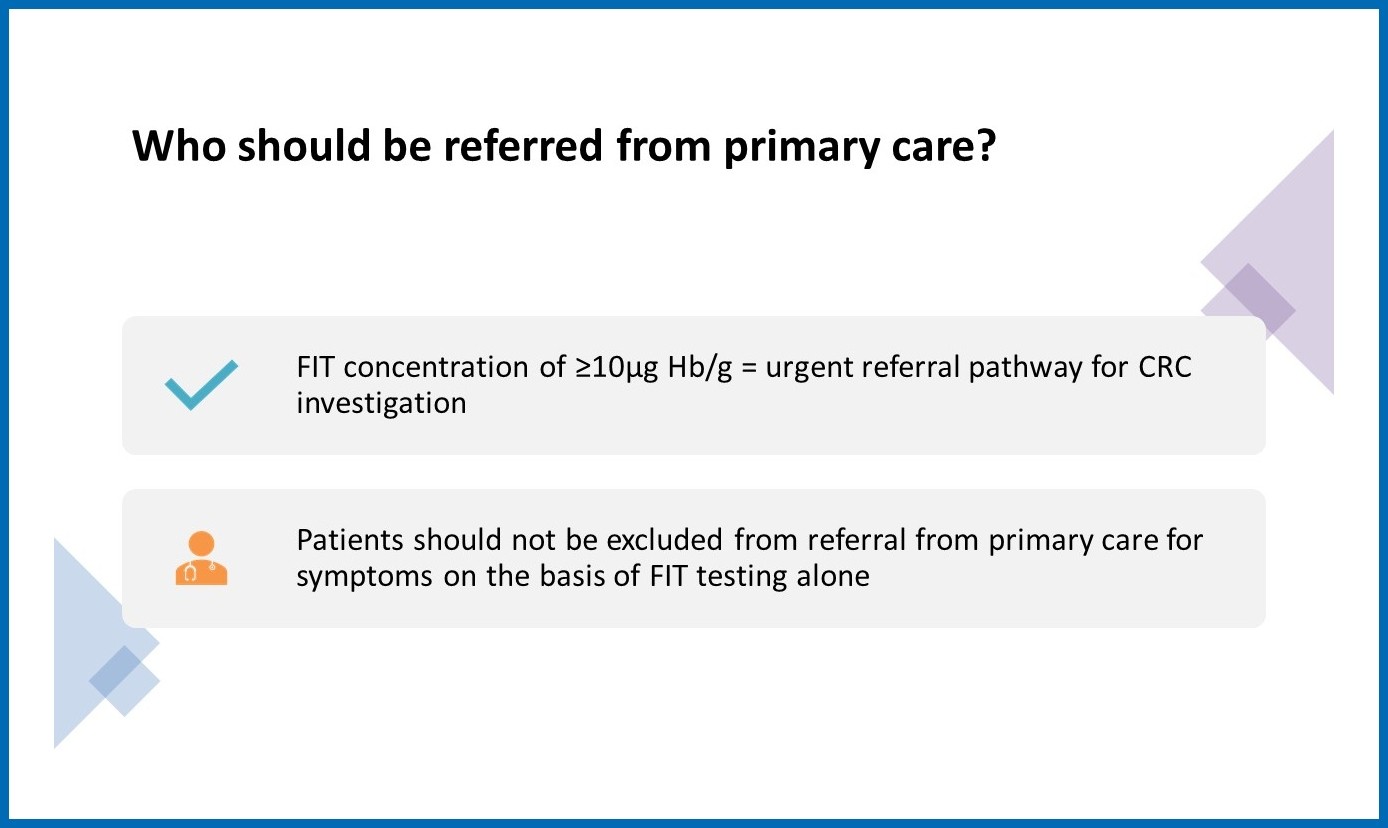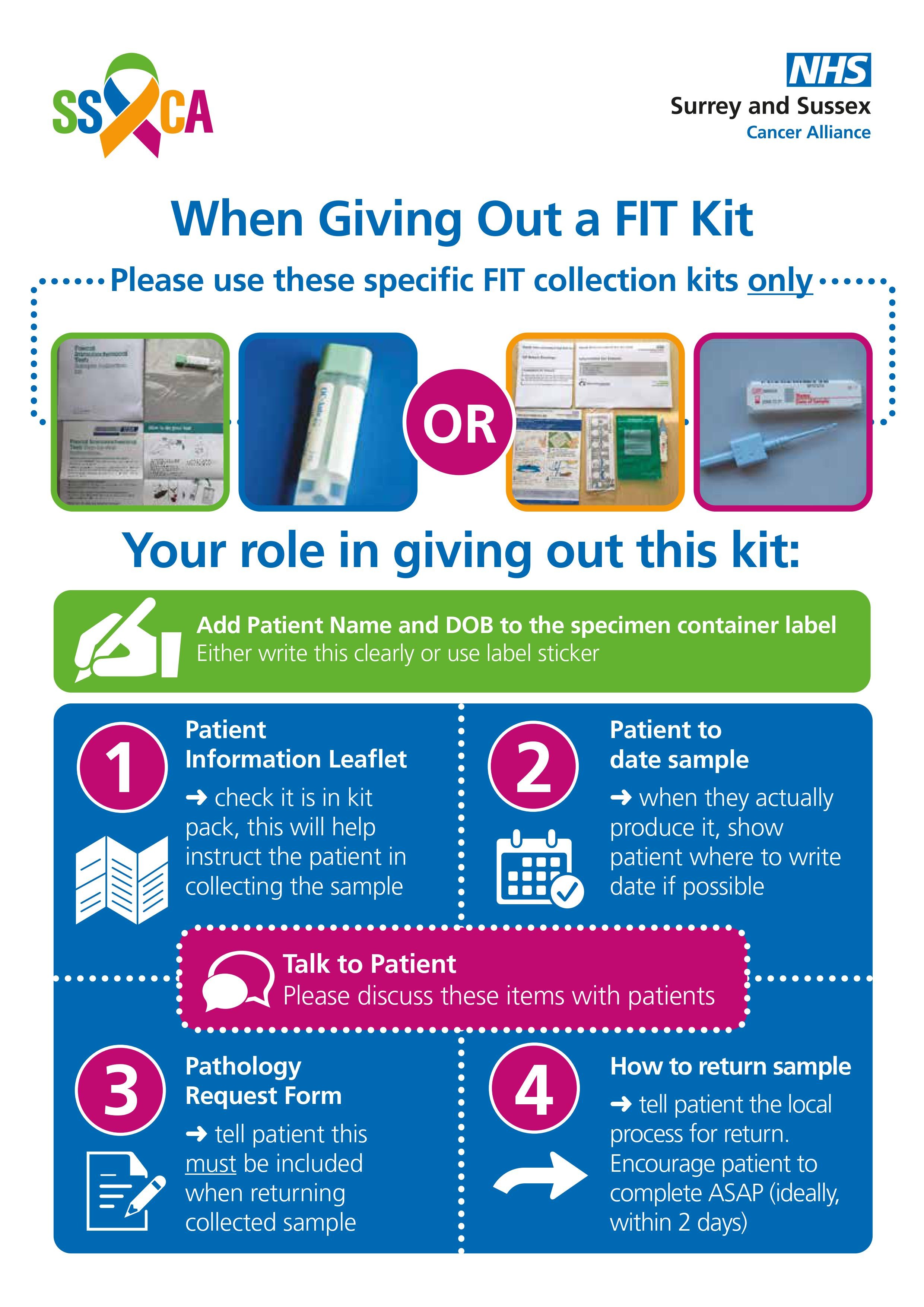 Please download and print this FIT poster and display it in the locations where the FIT kits are handed out.
The benefits of adhering to guidance on the poster ensures accurate labelling of the samples to so they are not rejected by the lab and also improves the patient's understanding of how to complete the sample correctly.
This makes sure samples are processed in a timely manner which is particularly important for progressing patients on urgent suspected cancer pathways.
To further improve patient compliance in returning their FIT kit, there is an automated FIT reminder pathway now live nationally through the GP communication tool Accurx. Patients will receive a text reminding them to return their FIT test after a certain time period.
To use this in Primary Care follow the FIT Reminder Step-by-step Guide when ordering a FIT test. This guide also shows a video of the steps on screen.
We have been made aware that for some GP practices, there has been an issue regarding FIT coding and mapping to SNOMED which means that in some instances, FIT numbers are not recorded.
This can be corrected by following the below guidance:
For SystmOne, please see this support article for some of the CAN-01 reports for the FIT test that are on Ardens.
For Emis, please see this support article for some of the CAN-01 reports for the FIT test that are on Ardens.
To better understand FIT - what it is and what patients have to do - there are three resources that can help improve understanding:
Patient information leaflets should be sent as part of the FIT kit pack from the pathology supplier. These leaflets describe what a patient has to do to collect their sample. If the FIT kit does not have a patient information leaflet for any reason, we have produced this Patient FIT Test Instructions leaflet. It can be distributed to patients or simply read for information.
There is a free Health Education England GatewayC course Gatewayc.org.uk on FIT in the Early Detection testing section.
Cancer Research UK has information about the FIT test, aimed at patients - Testing for blood in your poo using the FIT test.
The British Society of Gastroenterology has created this FIT flowchart to support health professionals in their decision making