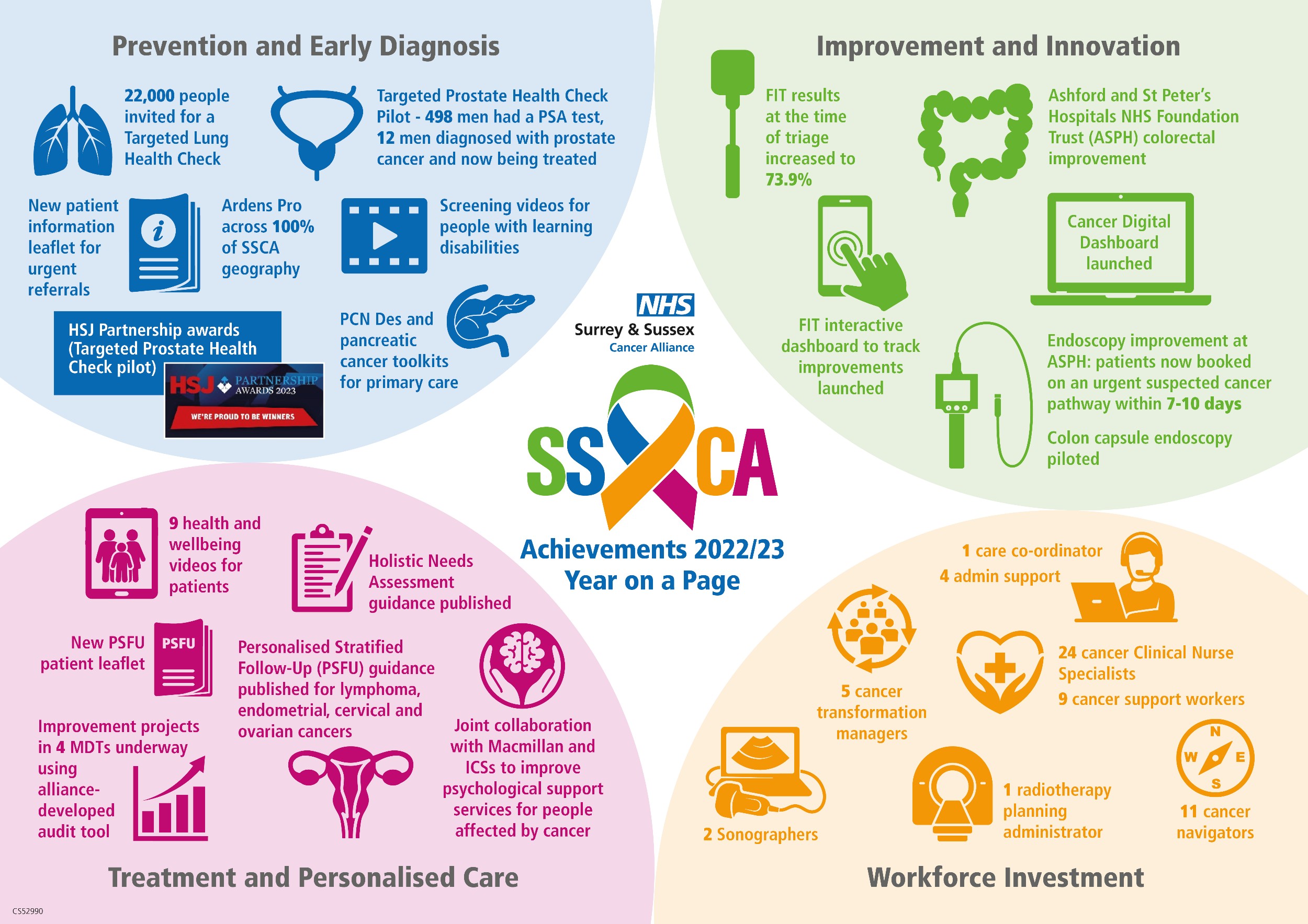 We work to improve the outcomes and experience for cancer patients in Surrey and Sussex. Together with our partners, we want:
fewer people getting cancer – through prevention, such as smoking cessation advice and support
more people surviving cancer, with cancer diagnosed earlier and patients given the best treatment
more people having a good experience of their treatment and care, with faster diagnosis and support throughout the process
more people supported to live as well as possible after treatment has finished.
We are part of a network of 21 cancer alliances in England who work to achieve the commitments for improving cancer set out in the NHS Long Term Plan. The key ambitions are:
by 2028, the proportion of cancers diagnosed at stages 1 and 2 will rise from around half now, to three-quarters of cancer patients; and
from 2028, 55,000 more people each year will survive their cancer for at least five years after diagnosis.
Our key objectives are set each year in the Planning Guidance from NHS England and Improvement. The 2022/23 planning guidance focuses on recovery from the COVID-19 pandemic, and improving performance against cancer waiting times standards.
We bring together people who work in cancer or with cancer patients – from consultants, nurses, GPs and social care staff, to academics, voluntary staff and patient representatives – to improve diagnosis, care and treatment in our local area.
The work we do covers prevention and early diagnosis, through to aftercare and end of life care. We work on both national and local initiatives, such as the national 28 day faster diagnosis standard and our local cancer screening projects.